M-DUST is an innovative low cost & portable particle sensor.
M-DUST has a wide range of applications:
Air quality monitoring

Industrial PM analysis

Domestic smoke analysis

Portable particulate detection


Dust mite analysis
M-DUST detects the concentration per unit volume of PM10 or PM2.5 particles. It works with a detection method based on light scattered principle similar to the traditional dust counter.
The system has an external Conical Inhalable Sampling Head. The PUF is a series of filters for use in the Conical Inhalable Sampler. The Conical Inhalable Sampler contains single foam inserts (PUF filters), which enables the sampler to be used for PM2.5 and PM10 sampling.

M-DUST integrates a mini vacuum pump to produce the filtered airlfow .According to customer requests different vacuum pumps can be integrated according to national laws for PM10 and PM2.5 measurement.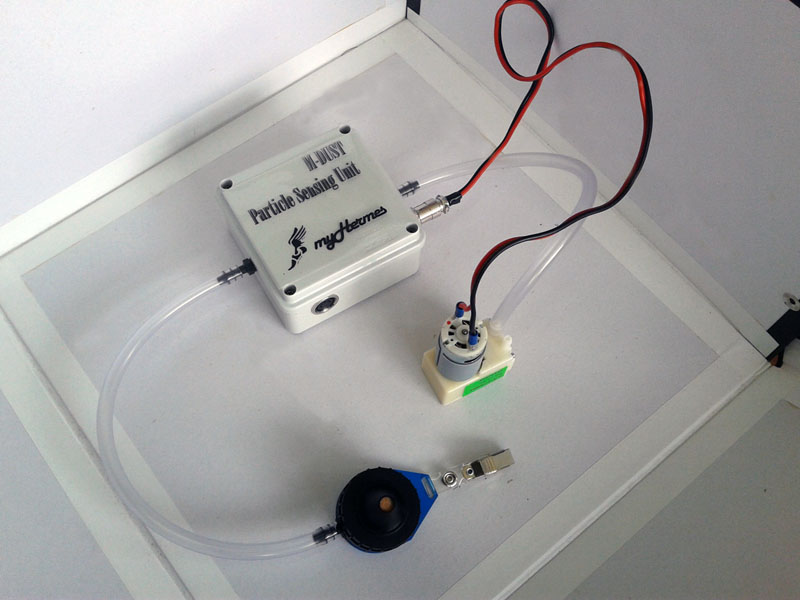 The base sensor kit includes:
the Particle Sensing Unit

the mini vacuum pump

the Conical Inhalable Sampling Head

The base sensor kit costs EUR 450,00 (excl. VAT).
Download product manual [updated on 01/06/2013].
MINI VACUUM PUMP
The mini vacuum pump integrated in M-DUST works with a 12V power supply.
PM FILTERS
PM Filters should be replaced in function of environment dust concentration.
For instance, a new PM10 filter in a traditional urban environment works correctly for a month (test conducted in Taranto, Italy).

A kit of 10 M-DUST PM10 long life filters is available for EUR 100 (excl. VAT) (NEW)

A kit of 10 M-DUST PM2.5 long life filters is available for EUR 100 (excl. VAT) (NEW)
For additional information contact us